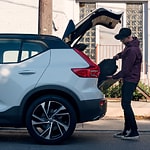 Tech and Audio Features That Standout In the Volvo CX40

Volvo cars come with a lot of tech features from the common Apple CarPlay to the advanced Blind Sport Monitoring System. The new XC40 sports a 13-speaker Harman Kardon audio system that delivers clear audio regardless of what you play. Tech that stands out includes:
The Harman Kardon system stands out with its 600-Watt sound system and patented Air Woofer Technology. It delivers clean and clear audio all the time.
Sensus Connect – This infotainment interface is at least five years old, but it still makes the car stand out.
Read More